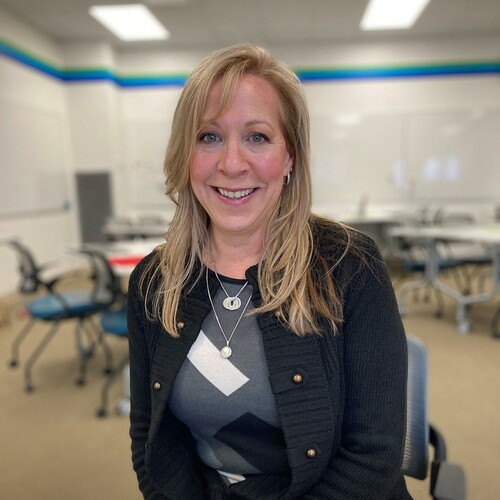 Kari Mason's career with SD6 began in 2015 as a Learning Services Teacher at Eileen Madson Primary School.  In 2017, she was the successful applicant for the District Learning Services Teacher.  In 2021 she was appointed as the District Vice Principal of Learning Services.  In collaboration with Learning Services Teachers and classroom teachers, she assists in the development of Individual Education Plans and programming supports, including Student Response Plans, conducting and assisting school teams with Functional Behavioural Assessments and Behavioural Intervention Plans, and the provision of job embedded support.
Prior to joining the SD6 family, she worked in Alberta in the Northern Gateway Public Schools (NGPS), Edmonton Public School Board (EPSB) and Canadian Rockies School Division.  While working for EPSB, Kari was the Education Lead and School Consultant on the multidisciplinary Child and Family Psychiatric Treatment and Assessment Unit for Alberta Health Services and Edmonton Public Schools.  This is where Kari developed a deep understanding of trauma informed practice, and the need for a strong foundation of social emotional development and mental health for learning.
She has a degree in Special Education from the University of Alberta is nearing completion of a Master's in Administrative Leadership with a focus on diversity, equity and inclusion, and has been a CPI Non-Violent Crisis Intervention instructor for 15+ years.  Additionally, she is a certified PATH facilitator, Mental Health Literacy Core Trainer, and Complex Care Intervention facilitator, building Trauma Informed Practice within schools.
At the core of her educational philosophy is the importance of building relationships by meeting people where they are at, viewing learning as a reciprocal, ongoing process that is both individual and collaborative, creating a sense of belonging on our path to discovering and developing student strengths and gifts through respectful curiosity and inquiry.  She believes that we all have something to learn, we all have something to give.