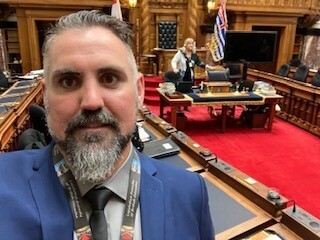 Selkirk Secondary School teacher, Scott McInnis, recently completed an enriching and engaging professional development opportunity in Victoria from October 19-22.  Along with 16 other teachers from around the province, Mr. McInnis was provided with a deep understanding of:
Parliamentary processes
Protocol and procedures in the Legislative Assembly
Legal frameworks/processes in BC
Government commitment toward Truth and Reconciliation
Members of Legislative Assembly roles/responsibilities
Roles of the Executive (Lieutenant Governor)
Additionally, Mr. McInnis was granted the opportunity to collaborate with Social Studies teachers and develop lessons which would be fun and enriching for students about parliamentary democracy in BC. 
Mr. McInnis spent full days in the Legislative Assembly, and was given first-class treatment by the Parliamentary Education Officers from meals, access to public officials, and answers to lots of questions. 
Mr. McInnis would like to thank the BCTF, Clint Dolgopol and Karen Shipka, and the Parliamentary Education Office for supporting him on this multi-day conference.  Mr. McInnis is hoping to join the BCTI again next year as a program facilitator for this event.