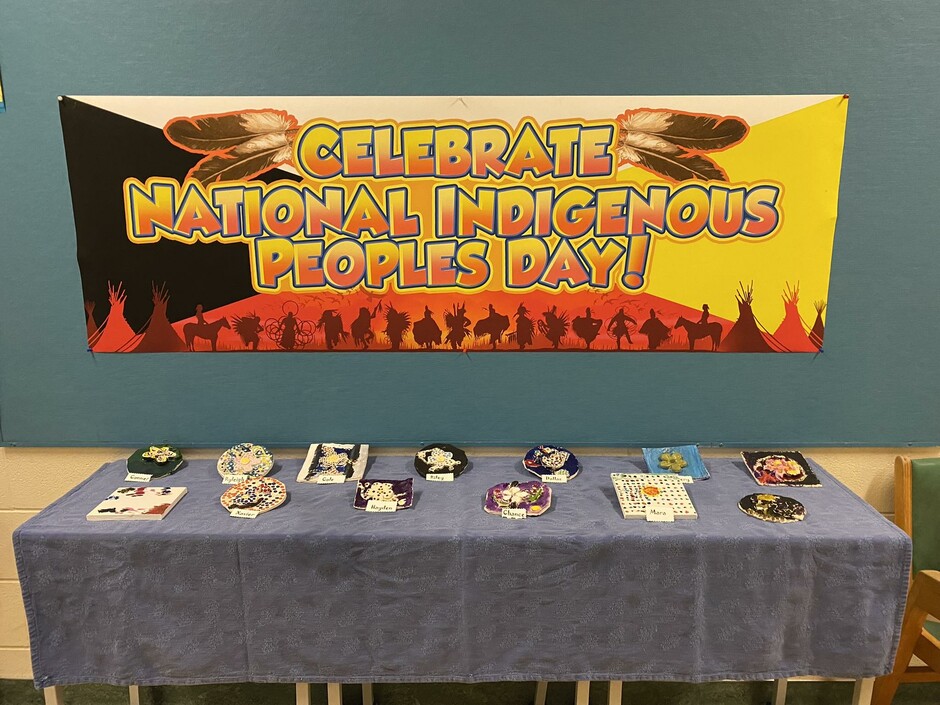 Alexander Park Elementary School (APES)
Three classes of students from Nicholson Elementary joined Alexander Park Elementary classes for an afternoon of activities. At the end of the day musicians from the Métis Nation Columbia River Society led by Travis Jobin performed for Alexander Park students. Elder George Strynadka played spoons with the students.
David Thompson Secondary School (DTSS)
Under the guidance of Monica Fisher and Sasha Taylor, students at DTSS participated in hide tanning.  
Edgewater Elementary School  (EES)
Edgewater students and staff made their way to the Shuswap Band's celebrations in Invermere.  Many students performed at the event and other students participated in other activities that being offered. 
Eileen School Madson Primary School (EMP) and. J. Alfred Laird Elementary School (JALES)
EMP and JALES students joined together to celebrate National Indigenous Peoples' Day. Students from each school joined with buddy classes to participate in traditional Indigenous games that were taught by some of the Grade 7 students. It was a great day of learning, fun and togetherness!
Lindsay Park Elementary School (LPES)
The school created eight stations honouring Ktunaxa and Indigenous ways of knowing which included games, drumming, language learning, storytelling, braiding and so much more.
Martin Morigeau Elementary School (MMES)
Many students at MMES wore orange or the closest colour they had to school. They displayed clay art reflecting the importance of the salmon (gr K-2) and also representing the Metis beadwork on clay flowers using dot art (gr 3-7).
Other activities included students practicing traditional language vocabulary and counting, and a group of students making and serving bannock to the school with Indigenous Education Support Worker, Leona Kains. Several students expressed an interest in trying to make bannock at home, they enjoyed it so much!
McKim Middle School (MMS)
McKim Middle School hosted the drumming group Numa ka kin (Thunder Wolf).
The Indigenous Education Support Workers, as well as the Aboriginal Education students from Selkirk Secondary School, put together a great day where students took part in traditional crafts, games, learned drumming songs with Numa ka kin, and cooked bannock over the open fire.