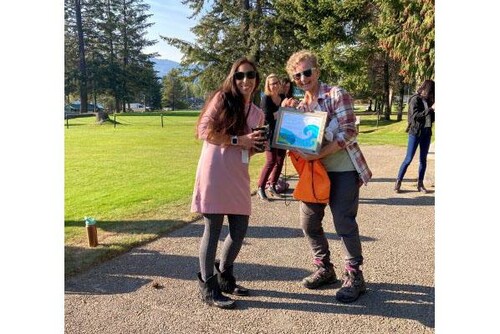 Three SD6 employees received 2022 Awards of Excellence from Columbia Basin Environmental Education Network (CBEEN).  Jenna Jasek, District Vice Principal for Indigenous Learning and Equity, was selected in the category of Indigenous Educator, and Jodi Casey and Caren Nagao were selected in the category for Primary Teacher.
In addition to her role at SD6, Jenna works closely with CBEEN to provide advice and guidance on Indigenous learning resources and as co-host of the "Every Child Matters Year-long Learning Challenge, and has also been an advocate locally for ensuring that the Every Child Matters movement takes root in the Columbia Valley. Jenna strives to provide her students with opportunities to explore, learn, and immerse themselves through outdoor education.
Jodi Casey, a teacher at Eileen Madson Primary School in Invermere, has been practicing environmental education with her students for more than a decade and has modeled her environmental education practice to colleagues. Jodi has had such a positive impact on the Columbia Basin by helping students develop a relationship with the land, teaching students to be stewards of the land, and demonstrating to students that through wonder and curiosity, we can connect deeply with our communities and surrounding environments.
Caren Nagao, a teacher at Alexander Park Elementary School in Golden, has provided hundreds of children with rich outdoor learning experiences and the opportunity to fall in love with our natural world. Caren celebrates and incorporates her Indigenous heritage into her teaching and has the enviable ability to be both in the moment as well as intentional when she is experiencing time in nature with her students.
Congratulations Jenna, Jodi, and Caren!!