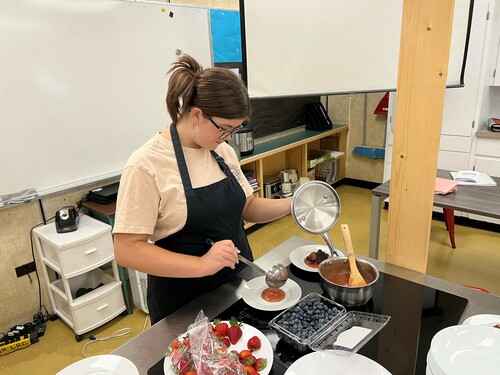 For the second time in only four months, the SSS Senior Foods Class served up an amazing meal to the Trustees and Senior Team during their school site visit.  An amazing feat considering the students had only been in class for a total of six days!
When asked about her experience serving the visitors, Grade 11 student Skye Venables said "On September 13, our Food Studies class helped prepare, plate and serve our School Board trustees and Senior Administration. I was in charge of the dessert course. I enjoyed playing a key leadership role and practicing my plating design. It was great to meet all of you and I hope you enjoyed your lunch."
The class is taught by Jill Deeney.  She has been teaching for 26 years and has had 34 years of service in the foods industry.  The Trustees and Senior Team want to extend a very hearty thank you to Jill for feeding them again but more importantly for the passion she is showing in her foods class.